We are so excited to be participating in a virtual BBQ just in time for 4th of July! We joined with a group of bloggers to each submit a BBQ recipe. It's like we are each brining our favorite dishes to a virtual party! This is a great way to get a bunch of new recipe ideas right in time for that potluck or BBQ you have planned for this weekend!
We are sharing one of our favorite summer dishes! It is great for a get together and couldn't be easier to throw together. The dish is perfect for a casual celebration, but the endives make a fun presentation for a classic dish. We took our original recipe and made it big enough to share.
Our lighter take on the classic egg salad ups both the flavor and the health of this dish with avocados.
Potluck Avocado Egg Salad
Hands On Time: 15 minutes
Serves: 4
Ingredients:
• 12 NestFresh Eggs, hardboiled, peeled, and chopped
• 2 ripe avocados, chopped
• 4 tablespoons prepared mustard
• 2 tablespoon green onions, chopped
• 2 tablespoon parsley, chopped
• 2 tablespoon lemon juice
• Salt and pepper to taste
• 2 bunches belgian endives, washed and separated
Preparation:
1. Mix all of the ingredients in a large bowl until evenly mixed and coated.
2. Spoon the egg salad into the endive leaves and arrange on a platter for serving.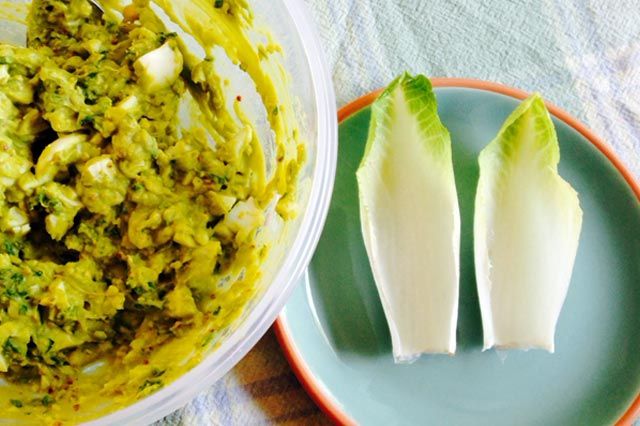 Visit with these other great bloggers to see what they are cooking up for this summer weekend!
Coleslaw Minus the Mayo – IsoBreathing
DIY BBQ Potato Chips – Grilling with Rich
Gluten Free Strawberry "Pop Tarts" – Whisking Through Life
Gluten and Dairy Free Trifle – My Foodie for Thought