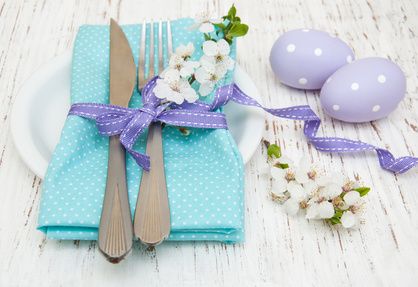 The Easter bunny might be a trickster, but that doesn't mean your Easter brunch needs to be tricky! Take the guesswork out of hostessing with the three recipes that will be on our menus this year.
All it takes to put an elegant Easter celebration together is quality ingredients that speak for themselves (ahem, NestFresh eggs) and a table setting that's sure to evoke that cheery feeling of spring that we're all looking for to shake the last of the winter blues. Follow our expert tips here:
Recipe #1: Spring Vegetable Tart
Whether you're serving Easter brunch or capping the day off, puff pastry is the perfect delivery system for this year's vibrant spring flavors and scrambled Certified Cage-Free Eggs, all served in a delicate tart.
Recipe #2: California Walnut Cake Orange Cream Cheese Frosting is the sweet topping that makes this California Walnut Cake a true treat. Slice by slice, its fresh, citrus flavor will brighten any Easter celebration.
Recipe #3: Mini Lemon Ricotta Cakes
Need we say more? Rich ricotta, zesty lemon and light NestFresh egg whites whipped into frothy submission are nearly all you need to put a smile on everyone's face at your next Easter brunch. The best part? You won't have to share!
Table Setting 101: It is important to remember that the ambiance you set at your Easter celebration doesn't stop at your to-die-for menu; set your table up for success. Dress each place setting with the colors of spring, depend on the season's freshest fruits to create an effortless centerpiece and coordinate the colors in your dishware to those in your napkins and tablecloth.