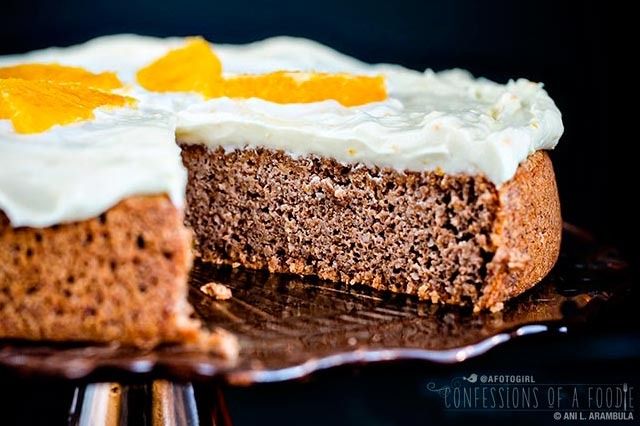 We are so excited to be able to share this delectable recipe with our blog readers. This recipe was developed by Anita at Confessions of a Foodie and we will let her tell you all about it.
Because there are so few ingredients, use the best: freshly bought walnuts and good quality eggs, such as NestFresh Cage Free Eggs, will definitely make this cake sing. If sugar isn't an issue for you, feel free to use regular white sugar in the cake and regular powdered sugar for the frosting. If you don't have all of the individual spices but you do have pumpkin pie spice, use 1 ½ teaspoons of it in place of my suggested spices.
CALIFORNIA WALNUT CAKE WITH ORANGE CREAM CHEESE FROSTING
Yield: 12 servings
INGREDIENTS
• 265g walnut pieces (about 2 ¼ cups)
• 140g Swerve granulated (¾ cup) or other cup for cup sugar replacement or regular white sugar
• ¼ teaspoon kosher salt
• 1 teaspoon ground cinnamon
• ¼ teaspoon ground cloves
• ¼ teaspoon ground nutmeg
• ¼ teaspoon ground ginger
• 7 NestFresh eggs, room temperature, separated
• 1 tablespoon orange extract (or orange juice)
• Cooking spray
CREAM CHEESE FROSTING
• 4 ounces whipped cream cheese (½ a tub)
• 90g Swerve confectioner's sugar or regular powdered sugar (¼ cup)
• 2 tablespoons orange zest (about 1 medium orange)
• ¼ cup whipping cream, plus 2-3 tablespoons more, if needed (can substitute regular milk)
• peeled orange segments for garnish (optional)
DIRECTIONS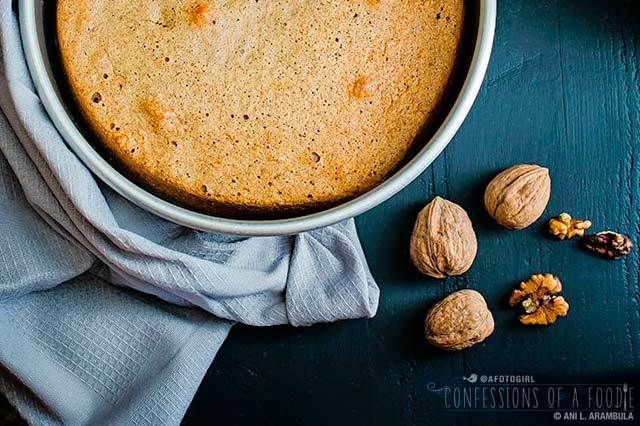 For the Cake
1. Grind walnut pieces in a food processor with the blade attachment until walnuts resemble couscous in texture, about 3-5 minutes, scrapping down the sides with a rubber spatula as needed. Alternately, working in batches, pulse in a blender to finely grind. Remove flour to a large mixing bowl. Whisk in the sugar, salt and spices.
2. Separate the eggs, placing yolks into a small bowl and whites into a large bowl. Set aside the whites. Beat the yolks with the orange extract until light and frothy. Add the yolks to the walnut mixture; stir well to incorporate. Set aside.
3. Preheat oven to 325 degrees Fahrenheit. Trace the bottom of a 9-inch cake pan on wax paper or kitchen parchment. Cut out circle. Lightly coat the bottom of the pan with cooking spray and place the paper circle on the bottom of the pan. Coat the paper and sides of pan with cooking spray. Set aside.
4. Whip the egg whites with electric hand beaters or a stand mixer on low until egg whites are light and frothy. Increase speed to high and whip until firm peaks are achieved. Scoop out about 1 cup of egg whites and gently fold into the walnut mixture, turning the bowl a quarter turn after every fold. Continue folding in the egg whites, in thirds until all the whites have been added, careful not to over mix as this will deflate the egg whites.
5. Pour batter into prepared pan. Bake until the cake springs back when gently touched, about 40-50 minutes. Remove cake and cool in pan for 5 minutes before turning out onto a cooling rack, removing paper from bottom of cake. Let cool completely before frosting.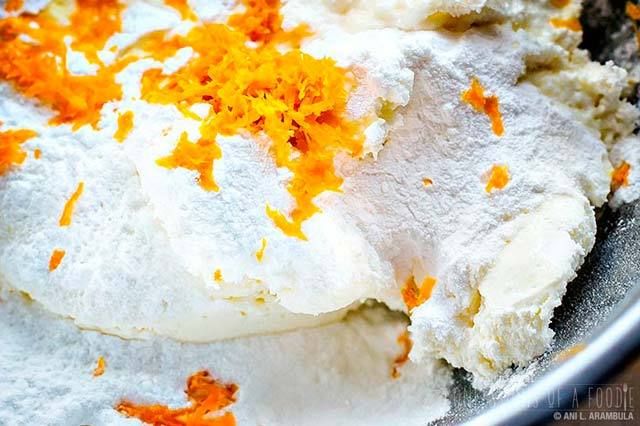 For the frosting
1. Beat cream cheese, sugar, zest and ¼ cup of the whipping cream until smooth. Add more cream, a tablespoon at a time, until desired consistency is reached.
2. Place cake on cake stand. Frost just the top of the cake. Decorate with orange segments. Store cake covered with plastic wrap in refrigerator until ready to serve, allowing cake to rest at room temperature for 15 minutes before slicing.