We are deep in summer, which means long days and warm nights. With the heat, the kids home all day, and the long days, you may be losing your resolve to get dinner on the table. That makes it the perfect time to debut a new recipe that is fun to make and delicious to enjoy during a BBQ or weeknight dinner on the deck.
This recipe for Cilantro Lime Pulled Pork Sandwiches allows you to leave the oven off, step away from the kitchen and enjoy some summer fun while a perfect summer meal cooks itself in your crockpot.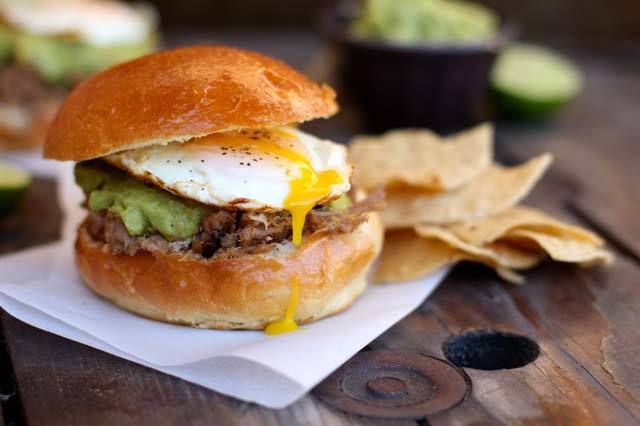 Cilantro Lime Pulled Pork Sandwiches
Ingredients
• 1/2 cup olive oil
• 4 tablespoons chopped fresh cilantro
• 1 medium onion, diced
• 2 garlic cloves, minced
• 1 1/2 teaspoon cumin
• 2 tablespoons juice from lime
• 1 tablespoon white vinegar
• 1 tablespoon liquid smoke
• ½ teaspoon salt
• 1 teaspoon ground pepper
• 1 bone-in pork shoulder 4-5 lbs
• 2 cups beef broth
• 6 NestFresh Eggs
• 6 whole wheat buns
• 2 avocados, sliced or smashed
Directions
1. In the bowl of a slow cooker, combine oil, cilantro, onion, garlic, cumin, lime juice, vinegar, liquid smoke, salt and pepper. Mix to combine.
2. Add pork shoulder and beef broth to slow cooker.
3. Cook pork shoulder on low for 6-8 hours.
4. Using 2 forks, pull meat away from bone and shred. For quick and easy shredding, remove bone and place meat in the bowl of an electric mixer fitted with the paddle attachment. Turn mixer on for about 15-30 seconds until completely shredded.
5. To assemble sandwiches, fry eggs until the yolk is set.
6. Place about ½ cup of shredded pork on bottom side of bun and top with a few slices of avocado and fried egg.