This week our friends, and frequent guest posters, the Colorado Egg Producers, share unique decorating ideas to celebrate Easter.
No matter what winter throws our way each year, Coloradans can rely on one tradition that arrives without fail each spring – Easter. From Easter egg hunts to candy and family brunches, Easter is a cherished springtime holiday that brings together family and loved ones in celebration. And no Easter celebration would be complete without egg decorating. Easter egg decorating is a classic Easter activity that people of all ages enjoy every year. This year, the Colorado Egg Producers (CEP) Association would like to share some helpful egg decorating tips to help make your Easter eggs the best and brightest.
"Easter egg decorating is a tradition near and dear to our hearts," said Vince Ruscitti, a Colorado egg farmer and member of CEP. "There are so many fun, beautiful ways to decorate Easter eggs. We hope that as Coloradans prepare for their Easter festivities, they remember to buy local and use Colorado-produced eggs, available at many stores throughout the state."
Before you get to the decorating, make sure your eggs are properly hard-boiled and have cooled. Or you can decorate blown – or empty – eggs. Our partners at the American Egg Board provide easy instructions on how to properly hard-boil or blow eggs for decorating, click here to learn more.
Below are several fun Easter egg decorating ideas that will be easy for all ages to do at home courtesy of Parenting.com.
● Chalkboard eggs – paint your eggs with chalkboard paint, available at many craft or hardware stores, and create fun designs or writing on them with chalk.
● Tissue paper eggs – use Mod Podge or another adhesive to glue strips of tissue paper onto your eggs. This will create a mosaic or stained-glass look.
● Newspaper eggs – soak pieces of newspaper in a mixture of white glue and water. Cover the surface of your eggs with the newspaper pieces and let dry for 24 hours.
● Crayon eggs – while the hard-boiled eggs are still warm from the pan, color on them with crayons. The heat from the eggs will melt the crayon wax and adhere it to the shells.
● Silhouette eggs – trace and cut out silhouettes from contact paper. Adhere the silhouettes to your egg firmly. Once the silhouettes are on the eggs, let the eggs sit in dye for two to five minutes. Dry your egg and remove the contact paper.
For more Easter fun, join CEP and the Easter Bunny at the FlatIron Crossing Mall in Broomfield March 12th through April 4th! Your children can meet and get their pictures taken with the Easter Bunny and enjoy a fun coloring activity. As part of the Good Egg Project, CEP will donate a dozen eggs up to 25,000 dozen to Feeding Colorado food banks for every social media Easter post that uses the #CEPGiving hashtag and for every child who visits the Easter Bunny at FlatIron Crossing. Mall visitors on March 14th and March 21st will enjoy demonstrations of humanoid "Nao" robots through CEP's partnership with St. Vrain Valley School District STEM Innovation Center in Longmont. Nao robots will entertain mall guests by performing the chicken dance and more.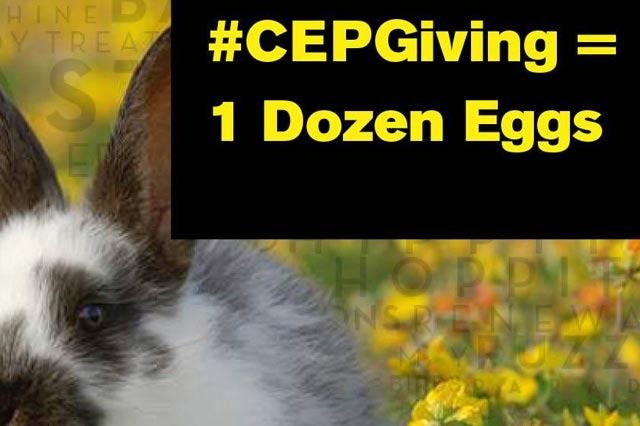 You can help CEP donate eggs to Coloradoans in need by posting #CEPGiving on Facebook, Twitter or Instagram. Use #CEPGiving to show us your Easter preparations, Easter bunny visits and more. Each time someone posts #CEPGiving by April 4th, CEP will donate an dozen eggs to Feeding Colorado food banks.
Tell us how you will celebrate this egg-citing holiday in the comments or using #CEPGiving on Twitter, Facebook, or Instagram!