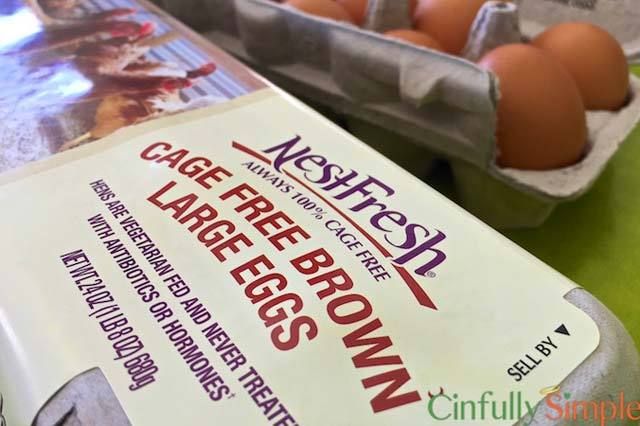 Recently, Cindy, who blogs at Cinfully Simple, wrote about her love of eggs, especially NestFresh Eggs. She shared a recipe she developed for a Country Skillet Egg Bake and we've decided to share it in honor of Mother's Day coming up this weekend. We think it is the perfect dish for a homey, relaxed mother's day brunch or breakfast in bed. Here's Cindy to tell you all about it.
I LOVE skillet egg dishes and I wanted something that had that down home southerny feel but without all the fat and calories. I wanted to have tasty protein and because I'm ME, I also wanted some bread to go with my eggs! This ended up being a great combination one-dish breakfast: A Country Skillet Egg Bake that has southern hospitality written all over it! Otherwise known as egg love in a skillet!
EASY EATS – NESTFRESH COUNTRY SKILLET EGG BAKE
Prep time: 10 mins
Cook time: 20 mins
Total time: 30 mins
Serves: 4
INGREDIENTS
• ¾ c. Bisquick Heart Smart baking mix
• ¼ c. + 2 T Greek yogurt
• pinch of salt
• sprinkle of pepper to taste
• ¼ c. or more bacon bits or crumbles
• ½ c. or more shredded cheddar or mexican blend cheese
• 4 NestFresh eggs (mark eggs with toothpick)
• Coconut oil for pan (I use Carrington's Liquid Coconut Oil. You can melt yours if you prefer.)
EXTRAS:
• Large Mixing Bowl
• Cast Iron or other oven safe skillet
• Glass with a small bottom
For the full directions, visit her full post on Cinfully Simple.