Is it just us or did life suddenly get really hectic? One thing that makes life easier is having a recipe that is flexible enough that it can be prepared ahead of time or last minute, especially if it doesn't require a ton of ingredients or work. Luckily, this recipe is not only flexible, but one of our fastest and easiest yet! To make it even better, this recipe will sneak some dark, leafy greens into your diet, packing a real nutritional punch. Tasty veggies ready in a snap? It doesn't get easier than that!
Scrambled Eggs with Kale Pesto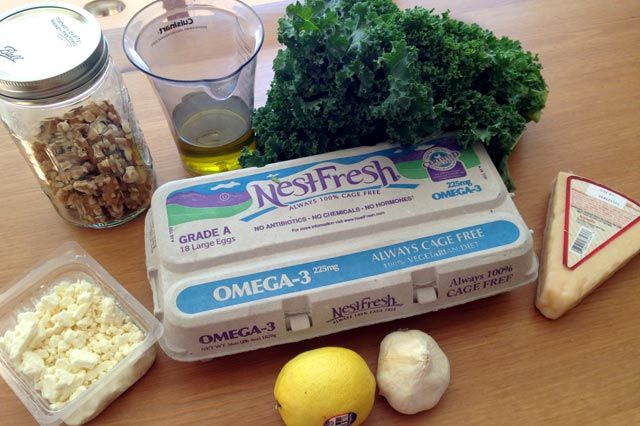 Ingredients:
• 1 bunch kale
• 2 cloves garlic
• Juice of 1/2 lemon
• 1 cup olive oil
• 1/2 cup walnuts
• 1/2 cup fresh basil leaves
• 2oz Parmesan cheese
• 12 NestFresh Eggs
• Salt and pepper
• Feta or goat cheese
Directions:
1. Blend the first seven ingredients until well-mixed into a liquid. Set aside.
2. Break the eggs into a bowl and beat until yolks and whites are mixed.
3. Season with salt and pepper to taste.
4. Scramble the eggs over medium heat, mixing constantly.
5. Remove the eggs from heat and top with pesto and cheese.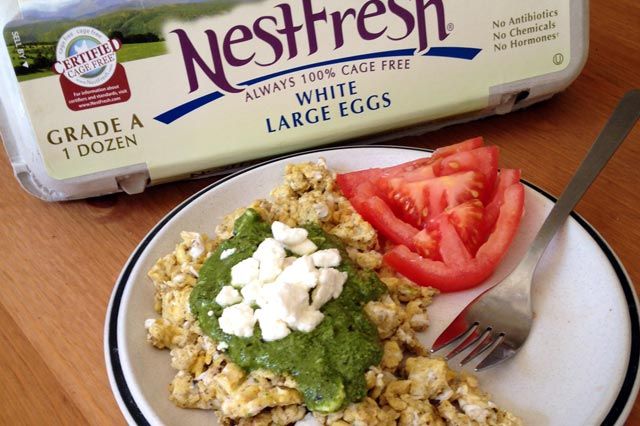 We told you it was easy! If you're interested in other easy, everyday recipes, check out our Pinterest board filled with meals that won't make your life any more hectic.