Today's guest post is from Colorado Egg Producers who put on a great event for Easter last week. The event was not only fun, it also benefited a local non-profit preschool and local food banks. They offered to share all the details on this egg-celent annual event with us and we hopped at the chance to hear all about it.
Colorado egg farmers hopped in to help bring the Easter Bunny to FlatIron Crossing mall this year and for a seventh year donated eggs to food banks statewide to help those in need.
From March 28th to April 19th, families enjoyed a festive and "egg-ucational" experience at FlatIron Crossing. Children were able to visit and have their picture taken with the Easter Bunny and the Colorado Egg Producers (CEP) Association donated one egg to Community Food Share serving Boulder and Broomfield counties for each picture taken. Visitors were also able to talk with a CEP "Eggs-pert" each weekend. The eggs-pert answered questions about eggs and provided new recipes as well as Easter and egg decorating tips.
On April 15th, CEP also proudly hosted a special "Spring Eggstravaganza" at FlatIron Crossing for two- to five-year-olds from Children's House Preschool, a nonprofit preschool serving a diverse population of students in the Boulder area for 44 years. Forty children from the preschool enjoyed a delicious and nutritious egg breakfast cooked by Colorado egg farmers, an Easter egg hunt with special prizes and the opportunity to have his or her photo taken with the Easter Bunny. CEP also donated two new children's bicycles to Children's House Preschool.
As a part of the Good Egg Project, CEP donated more than 340,000 (341,080) eggs to five Feeding Colorado food banks throughout the state to ensure those in need had eggs in time for Easter. Of the total number of eggs donated, 2,500 came from families who visited the Easter Bunny at FlatIron Crossing this season.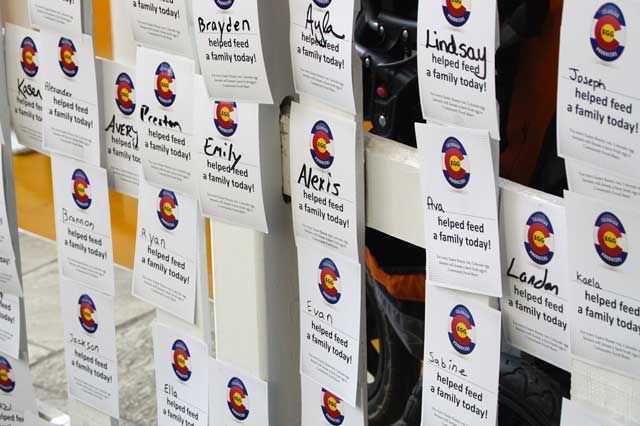 More than 650,000 people are at risk of hunger in Colorado and one in seven Coloradans don't have enough food to meet their basic needs. While eggs are a very important staple in our diet, they are also one of the hardest foods for food banks to provide to families in need. This is why CEP feels it is vitally important to provide eggs donations to area food banks year-round. At two eggs per person, CEP's spring donation will help put high quality, wholesome and fresh eggs on the plates of more than 170,640 Coloradans this season.
Weighing in at 75 calories, eggs are a powerhouse of nutrition for their size and caloric content. Each egg has 13 essential nutrients – including the highest quality protein, choline, folate, iron and zinc. Moreover, they have been found to contain less cholesterol and more vitamin D than previously thought.
Learn more about CEP at www.coloradoeggproducers.com, or visit us on Facebook, Twitter and Pinterest.
About Colorado Egg Producers Association
The Colorado Egg Producers (CEP) Association is a membership organization representing seven farms throughout Colorado. CEP is committed to doing what's right for its community, as illustrated by their regular donation of thousands of eggs to food banks throughout the state and its partnership with the Good Egg Project, an initiative from America's egg farmers that aims to educate people about where eggs come from and to encourage Americans to help conquer hunger in the U.S. Egg farmers throughout Colorado pride themselves on providing a high quality, protein-dense food like eggs to citizens in this great state. We are also proud to offer consumers the choice between cage, cage-free eggs, organic, nutrient enhanced, brown and white eggs. You can find locally produced, fresh, wholesome and safe eggs in the dairy case of your favorite Colorado supermarkets. The seven CEP farms are Colorado Egg, LLC; Country Side Eggs; NestFresh; Boulder Valley Poultry; Hillside Egg Farm; Morning Fresh Farms and Sparboe Farms. For more facts and information about eggs and CEP, including a list of where to buy Colorado eggs, please visit www.coloradoeggproducers.com.
About Children's House Preschool
Founded in 1970, Children's House Preschool is a nonprofit preschool serving a diverse population of students in the Boulder area. During the past 5 years the preschool has educated children speaking 26 different home languages. The student body includes low-income families, special needs students, non-native English speakers, single parent households and other at-risk children. "Special needs" and "at risk" categorizations are determined by the criteria used by BVSD, CPP and Child Find. More than half of the school's population is low-income families, and these students are able to attend as a result of a scholarship program that offers reduced or free tuition. Children's House Preschool is actively involved in providing health and human services to the school community. Assistance to families may include and is not limited to: transportation for students, food, clothing, books, household items and referrals to community outreach programs such as Community Food Share, Child Find and Emergency Family Assistance Association. To learn more, visit www.childrenshousepreschool.org.
About Feeding Colorado
Feeding Colorado is an association of the five Feeding America food banks in Colorado. Feeding Colorado's purpose is to coordinate and enhance food resources among the state's food banks; provide administration and distribution of USDA commodities, including CSFP, TEFAP and the School Lunch Program for the state of Colorado; and to support the mission of Feeding America. The five food banks distribute food to more than 1,500 nonprofit agencies state-wide, that provide meals and services to people in need. For more information on how you can fight hunger in your community and across the state, visit www.feedingcolorado.org.