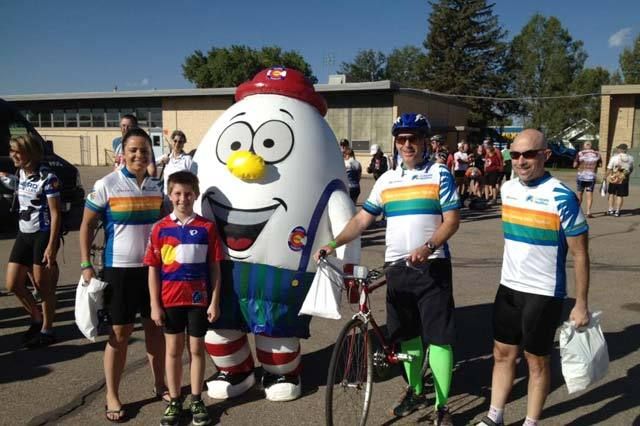 In our latest guest post from our friends at the Colorado Egg Producers Association, they encourage us to consider eggs as part of a healthy summer diet.
It's easy to see why so many people choose to wake up with eggs. From the high-quality protein to the essential nutrients and amino acids found in eggs, they provide us with a healthy kick-start to our day. But did you know that eggs are a great meal choice all day long? As you gear up for fun summer activities, you'll need all the fuel you can get to conquer that fourteener or run that 5K. Whether you're looking for an on-the-go snack or a healthy family dinner, the Colorado Egg Producers (CEP) Association encourages you to fuel your fun all summer long with the incredible edible egg.
"In addition to being a great source of protein and nutrients, eggs are one of the most versatile foods to cook with," said Terry Tormohlen, a Colorado egg farmer and CEP member. "Whether you prefer your eggs scrambled, over easy, baked, sunny side up or boiled, you can easily incorporate eggs into many of your meals throughout the day."
Try adding eggs to your lunch. They go great on top of many salads and sandwiches. If you're eating lunch on the go, take an egg burrito or hard-boiled egg along with you. In addition to lunch, eggs make a fast, easy and nutritious dinner. Egg casseroles, quiches, baked eggs; the possibilities are endless. Unlike chicken or beef, the best part about eggs is you don't have to worry about defrosting them! Pair them with veggies or whole-wheat pasta for a filling, healthy meal.
Eggs are also a great addition to your summer barbecue! Get creative by adding a fried egg to your burger or scrambled eggs on top of your bratwurst. Of course, we can't forget the classic summer side dishes – egg salad and deviled eggs. You can even use eggs as part of your backyard games. Enjoy a little friendly competition with an egg toss or egg and spoon race.
Looking for an "egg-cellent" summer recipe? Here's one side dish that's sure to be a hit at your next barbecue.
Pasta Salad with Eggs and Herb Vinaigrette
Ingredients
• 6 oz. uncooked wheel-shaped pasta, cooked, drained
• 1 cup chopped fresh broccoli
• ¾ cup chopped fresh tomato
• ½ cup shredded carrot
• 6 hard-boiled eggs, cut into wedges
Dressing:
• 1/3 cup white wine vinegar
• 2 Tbsp. olive oil
• 1 Tbsp. water
• 1 tsp. dried basil leaves
• 1 tsp. dried oregano leaves
• ¾ tsp. garlic salt
Directions:
1. Whisk dressing ingredients in small bowl until well blended.
2. Combine pasta, broccoli, tomato and carrot in large bowl; toss. Pour dressing over pasta mixture; toss until evenly coated. Add eggs; toss briefly.
3. Refrigerate, covered, at least 4 hours to blend flavors.
You can find more healthy recipes to fuel your fun this summer by following us on Facebook, Twitter and Pinterest. To learn more about CEP please visit www.coloradoeggproducers.com.