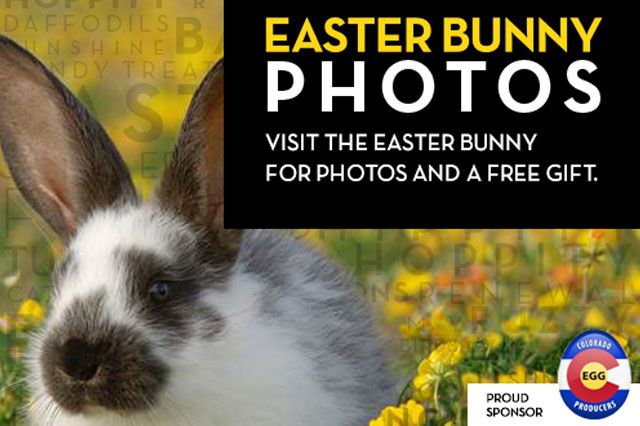 Today we have a guest post from Jerry Wilkins, president of the Colorado Egg Producers Association, an organization that represents egg farmers throughout the state.
Though the winter weather was unpredictable this year, you can count on at least one thing for spring – the Easter Bunny. He's getting all of his eggs in a row so children around the world can wake up on Easter morning to the thrill of an Easter egg hunt. The Colorado Egg Producers (CEP) Association is helping out – they've hopped in to bring the Easter Bunny to FlatIron Crossing Mall this year! Join the festive and "egg-ucational" celebration now through April 19th. As part of the Good Egg Project, CEP will donate one egg to Community Food Share, serving Boulder and Broomfield counties, for every child who visits the Easter Bunny.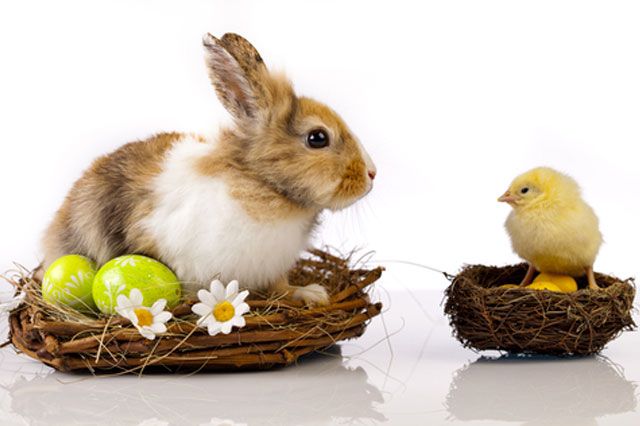 Children can meet and get their picture taken with Easter Bunny and enjoy a fun CEP coloring activity during the following hours:
Now – April 15th:
Monday through Saturday, 10:00 a.m. – 8:00 p.m.
Sunday, 11:00 a.m. – 6:00 p.m.
Wednesday, April 16th – Saturday, April 19th:
9:00 a.m. – 9:00 p.m.
If you have questions about eggs, CEP has answers. Whether you are looking for some new recipes or Easter and egg decorating tips, a representative can help you out at the "Ask the Eggs-pert" booth in front of Cozy Cottage on the main level of FlatIron Crossing Mall. The eggs-pert will be in the following days from 12:00-4:00 p.m.:
Saturday, April 5
Saturday, April 12
Sunday, April 13
Did you know that cultures from around the world color Easter Eggs? Here are a few examples courtesy of kinderinfo.com:
Russia – Perhaps the most famously decorated eggs of all are known as Faberge eggs. They are exquisitely detailed jewelry designed in the shape of eggs and were created for the Russian Imperial Court.
Poland – The Polish pisankas are created by first dipping an egg in wax and then carving it. The egg is typically dyed once the carving is finished. It's Polish tradition to exchange the pisanka eggs as gifts between family members on Easter Saturday.
Greece – The Greeks commonly dye their eggs solid red. The red color is symbolic of the blood of Jesus, resurrected on Easter Sunday.
British Isles – The British decorate Easter eggs in many different colors and styles. What sets their tradition apart from others is the Easter egg roll, which is a contest is to see who can roll their egg down a hill and across the finish line without breaking their eggs.
CEP wants to know what Coloradans do to celebrate this holiday. Share with us on our Facebook page or Tweet to us at @CoEggProducers.
Happy Easter from your Colorado egg farmers!
About Colorado Egg Producers Association
About Colorado Egg Producers Association
The Colorado Egg Producers (CEP) Association is a membership organization representing seven farms throughout the state. CEP is committed to doing what's right for our hens, the environment and the community, as illustrated by the regular donation of thousands of eggs to food banks throughout the state and our partnership with the Good Egg Project, an initiative from America's egg farmers that aims to educate people about where eggs come from and to encourage Americans to help conquer hunger in the U.S. Local egg farmers take great pride in providing eggs to Coloradans. For more facts and information about eggs and CEP, including a list of where to buy Colorado eggs, please visit www.coloradoeggproducers.com. Find CEP on Facebook, Twitter and Pinterest for egg facts, egg recipes and more.