Chocolate lovers may want to mark Friday, the 22nd on their calendars because it is National Chocolate Eclair Day.  A traditional eclair is composed of pate a choux, a vanilla custard filling, and a chocolate ganache topping. If you would like to try your hand at this sweet, French dessert, this recipe for Inside Out Mini Eclairs mixes it up a bit–starting homemade pastry with a chilly chocolate filling and a white chocolate ganache!
These treats are small and cool, perfect for the hot weather we're sure to get on Friday.
Pastry
1/2 cup butter
1 cup water
1/4 teaspoon salt
1 cup all-purpose flour
4 NestFresh Eggs
In a large pot, bring water and butter to a boil. Add flour and salt until the mixture forms a ball. Transfer dough to a standing mixture to let cool (you don't want to cook your eggs!). Mix in the NestFresh Eggs one at a time until dough is a sticky or chewy consistency.
Drop tablespoons of dough onto ungreased cookie sheets and let cook at 450 degrees for 20-25 minutes or until golden brown. During the last couple minutes of baking time, poke each puff with a toothpick as to prevent deflating. Cool.
Frozen Custard
1 cup half-and-half cream
2/3 cup sugar
3 NestFresh Eggs, beaten
1 cup whipping cream
1 teaspoon vanilla extract
1/4 teaspoon salt
Cook first three ingredients in a saucepan until thick. Stir constantly or you'll get scrambled egg chunks. Pour cooled mixture into a shallow pan and put in freezer. Freeze to a mush, not solid. Whip cream and vanilla and fold into partially frozen mixture. Freeze.
Melt 4 ounces of chocolate into half of the pudding mixture to make chocolate custard as well. Let the custard freeze to a pretty solid state before putting in the eclairs. This will prevent melting when you frost them.
Chocolate Ganache
1/2 cup heavy cream
4 ounces semisweet chocolate, coarsely chopped
This is the traditional topping. Put chocolate in medium bowl. Bring heavy cream to a boil, immediately take off heat, and poor over chocolate. Wisk until smooth. Keep warm to dip eclairs or fill piping bags and refrigerate.
White Chocolate Ganache
1/2 cup heavy cream
6 ounces white chocolate chips
1/2 tablespoon butter
This is very similar to the chocolate ganache. Put chocolate in a medium bowl and bring heavy cream to a boil in a sauce pan. Immediately poor over chocolate and combine with butter until smooth.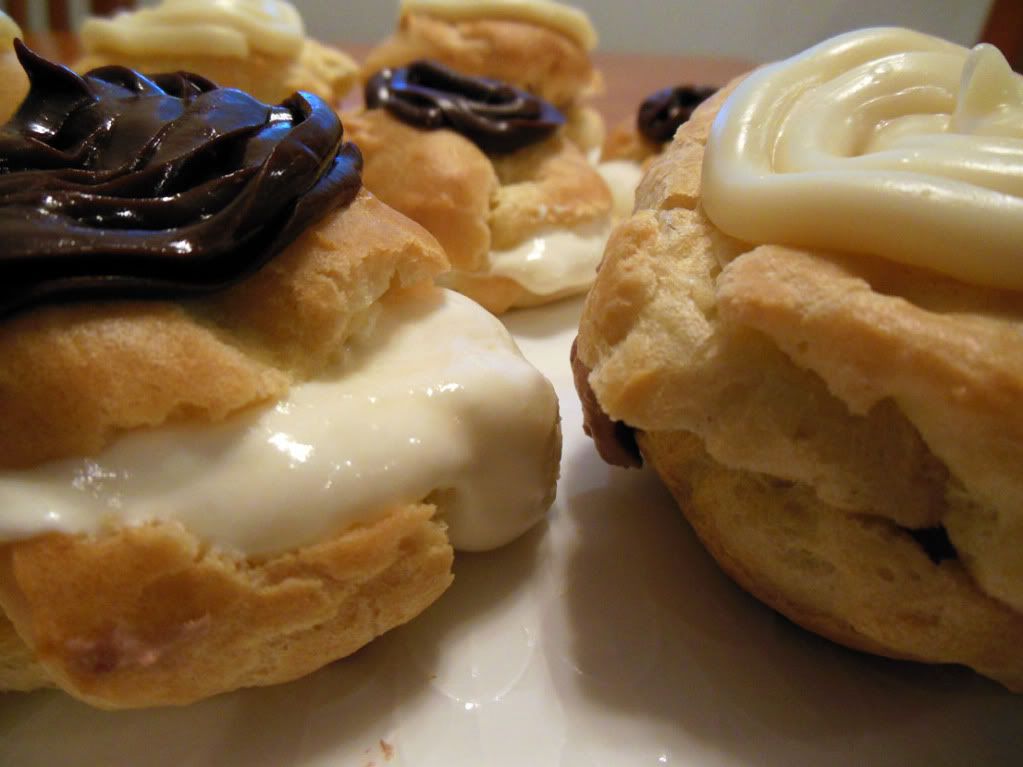 The puffs freeze beautifully so you can make them ahead of time to cut down on prep. The ganache can also be pre made and warmed in the microwave when it's time to frost.