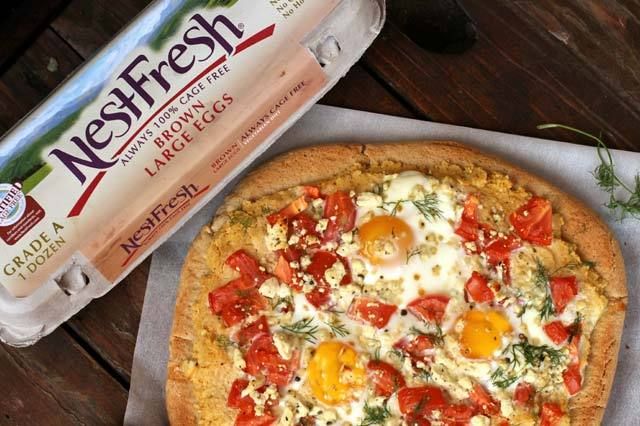 Who doesn't love pizza and who wouldn't want it for breakfast?! Pizza is most kids' favorite food, but sometimes we can feel guilty about it. Luckily, pizza can be made into a lighter, healthier breakfast. Our breakfast pizza recipe takes a fun food that everyone loves and makes it into a more nutritious breakfast that you can feel good about feeding your family.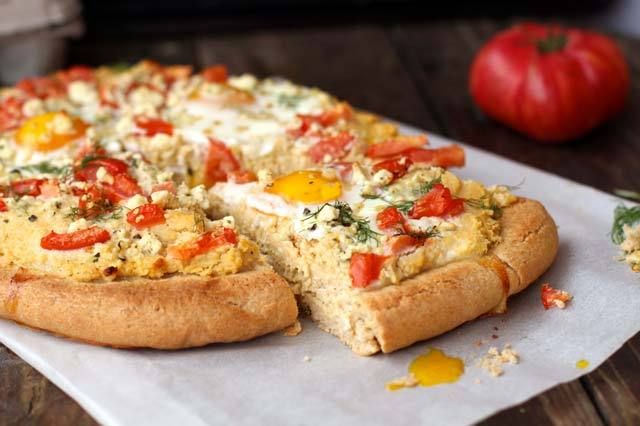 Breakfast Pizza
with Homemade Hummus and Whole Wheat Dough
Ingredients:
▪ 1 batch of pizza dough (recipe below)
▪ 1 batch of humus (recipe below)
▪ 4 NestFresh Eggs
▪ 2 tomatoes, diced
▪ 3/4 cup feta cheese
▪ 2 tablespoons chopped fresh dill
Directions:
1. Preheat oven to 400 degrees.
2. Place pizza round on parchment lined cookie sheets.
3. Bake for 10 minutes.
4. Remove from oven and spread ¾ cup humus on the tops of pizza.
5. Crack an egg on pizza. Sprinkle diced tomatoes, feta and dill around the egg.
6. Bake for 15 minutes or until egg has set.
Whole Wheat Pizza Dough
Ingredients:
▪ 1 cup warm water
▪ 2 ¼ teaspoons instant yeast
▪ 1 cup whole wheat flour, plus more for rolling
▪ 1 ¼ cup all purpose flour
▪ 2 tablespoons extra virgin olive oil
▪ 1 tablespoon honey
▪ ½ teaspoon salt
Directions:
1. In the bowl of your electric mixer or food processor fitted with a dough hook, add warm water and instant yeast and allow to bloom (become frothy) for about 5 minutes.
2. Once yeast has bloomed, add remaining ingredients and mix on medium low speed until dough is smooth and no longer sticking to the side.
3. Generously grease a large bowl with oil or non stick cooking spray.
4. Place dough in bowl and cover with a damp cloth and set in a dark corner of your kitchen.
5. Let dough double in size, about 30 minutes.
6. Preheat oven to 400 degrees.
7. Once dough has doubled in size, punch down.
8. Sprinkle whole wheat flour on a large, clean surface and roll dough out into a round 1 inch thick circle.
Hummus
Ingredients:
▪ 1 can garbanzo beans, drained but reserve 2 tablespoons liquid juice of 1/2 lemon
▪ 1 clove of garlic
▪ 1/2 teaspoon kosher salt
▪ ¼ teaspoon cumin
▪ 2 tablespoons chopped cilantro
▪ 2 tablespoons tahini
▪ 1 tablespoon olive oil
Directions:
1. Pulse garlic cloves in food processor until finely chopped.
2. Add garbanzo beans, garbanzo bean liquid, salt, cumin and tahini to food processor and pulse until smooth.
3. Add cilantro and add olive oil and process until combined.