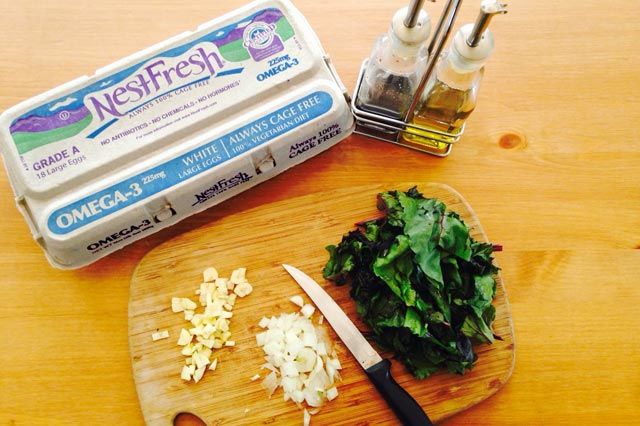 On Sunday we celebrate moms and all they do. While moms are full of big gestures of love, it is those small, every day things that they do for us that really make us feel special. So, what better way to their simple, but perfect love than with a simple breakfast that is made special with some small details of love? We developed this recipe with the refined tastes of moms in mind, but it is easy enough that the kids can help cook. This recipe makes 4 servings so you can spend some quality time with mom while she enjoys her special breakfast.
Time: 20 minutes
Serves: 4
Ingredients:
• 2 tablespoons olive oil, divided
• 1 onion, diced
• 4 cloves garlic, diced
• 8 cups fresh greens (chard, kale, beet greens), roughly chopped
• 8 NestFresh Eggs
• 1 tablespoon balsamic vinegar
• Salt and pepper to taste
Directions:
1. Heat 1 tablespoon of the oil in a large pan.
2. Add the onions and garlic.
3. Sauté them until the onion is translucent.
4. Add the greens, mixing, until they are wilted. Set aside.
5. Add the second tablespoon of oil to the pan.
6. Crack each egg in the pan, flipping once the yolk is set.
7. Serve the eggs on top of the greens and top with salt, pepper, and balsamic vinegar.