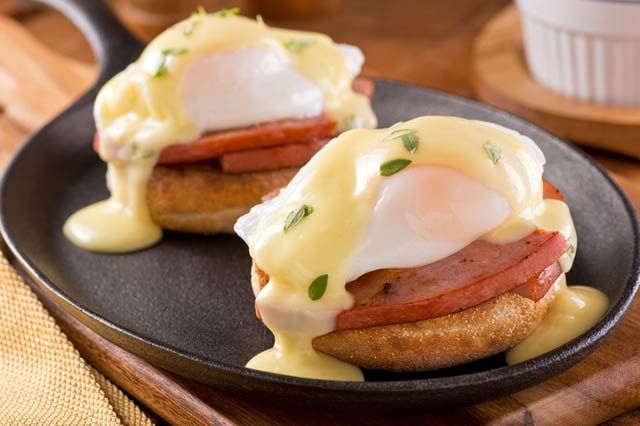 When the weekend rolls around, some of the most important plans you'll make are those for brunch. What will be on the menu this week?
When you're craving decadence without the guilt that follows, give this lightened up recipe for Eggs Benedict a try. Not convinced? Let us walk you through the benefits of eggs benedict by deconstructing this heavenly brunch favorite.
Poached eggs are cooked without fat. This lean choice offers everything we love about eggs, including vitamin B2, which helps to convert food into fuel. You'll feel inspired to get up and move!
Yolk it up. The antioxidants found in egg yolks, lutein and zeaxanthin, have unique protective powers on the eyes. While the egg white is full of healthy nutrients, these two antioxidants are only found in the yolk.
Give your heart a hand. Eggs contain healthy cholesterol and are one of the few natural sources of Vitamin D, important for the bones and teeth. Vitamin D aids the absorption of calcium, which is important for the heart.
Canadian bacon is a much leaner choice than regular bacon. Cut the fat while indulging in moderation.
Whole grain muffins give your eggs benedict a boost. Between fiber, a healthy plant-based protein, vitamins and minerals, what's not to love?
Eggs Benedict
Ingredients
• 8 large NestFresh eggs
• 4 whole wheat English muffins (8 halves)
• 8 thin slices Canadian bacon
• 2 cups baby spinach leaves
• Freshly ground black pepper
Hollandaise Sauce Ingredients
• 1/2 very ripe medium Hass avocado, peeled and chopped
• 2 teaspoons fresh lemon juice
• 2 tablespoons extra-virgin olive oil
• Salt and pepper
Directions
1. Visit our blog Are you eating your eggs the wrong way? to poach the perfect egg.
2. Toast the English muffins.
3. Heat the Canadian bacon in a nonstick skillet, and prepare hollandaise sauce.
Hollandaise Sauce:
4. To prepare the hollandaise, combine the avocado and lemon juice with 1/3 cup of hot water in a blender. Puree until smooth and light in texture, about 2 minutes, scraping down the side of the bowl occasionally. With the machine on, drizzle in the olive oil and puree until combined. Season with salt and pepper.
Assembly:
5. To assemble, top each English muffin with a slice of Canadian bacon, a few leaves of baby spinach and then the poached egg.
6. Top each piece with ½ tablespoon hollandaise and a sprinkle of black pepper.