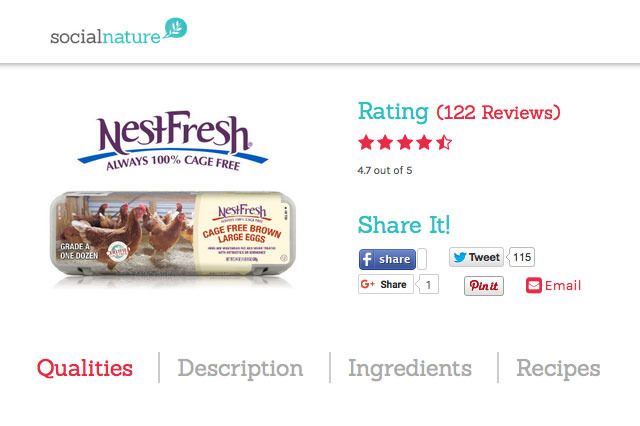 We always love to hear what people think of NestFresh Eggs. We love the farms and hens that make up our company as well as the eggs we produce, so it fills us with great joy when people love our eggs as much as we do.
Recently, we worked with Social Nature to collect reviews of our eggs and we were so happy when they told us that NestFresh Eggs were the highest rated products ever featured! We were overwhelmed with the positive feedback that we received.
Some reviewers loved the values behind our way of producing eggs:
I LOVE the idea that these chickens are free to roam wherever they want. Provided with sunlight, shade shelter and exercise area, fresh air and protected from predators.
–Andrea C.
Some appreciated that our attention to the health and wellbeing of our birds and the land also affect the egg's qualities:
I made boiled eggs out of the NestFresh Eggs and they were tastier than the regular eggs that I usually purchase. I would recommend these eggs to my friends and family, it's not only healthy, it's deliciously awesome!
–Rosemarie C.
And some just loved the farm fresh quality of our eggs.
The flavor difference between these and the usual eggs I get was amazing. They had so much more rich flavor, and they just tasted fresher. Knowing that they came from a humane farm just made them that much more delicious. I will be buying these again…and again!
–Stephanie K.
These eggs tasted amazing. Everyone in my family raved about them. I can't believe they were all able to taste the quality in the egg. I will definitely purchase again. They are now a staple in our shopping list.
–Angie C.
I am not often impressed by store bought eggs, because I got very used to getting farm fresh eggs from free range chickens, when I used to spend my summers on a farm, and that desire for farm fresh free range eggs carried over to adulthood. That being said, these NestFresh eggs are the closest to "fresh from the farm" as I have seen in stores. Eggs were all of normal size, clean, and fresh looking. Yolks are a vibrant yellow, as a good egg should be. Since we have had these NestFresh eggs, I've made them over easy, hardboiled as well as brunch cups, and these eggs stand up wonderfully, no watery or runny anything about them. NestFresh have been a great alternative to truly "fresh from the farm" eggs.
–Erika B.
We are so proud to produce a product that is not only humane and sustainable, but high quality, too. Leave us some feedback in the comments to let us know what you love about NestFresh Eggs.